In-Wall Aquariums
Wall Mounted Fish Tanks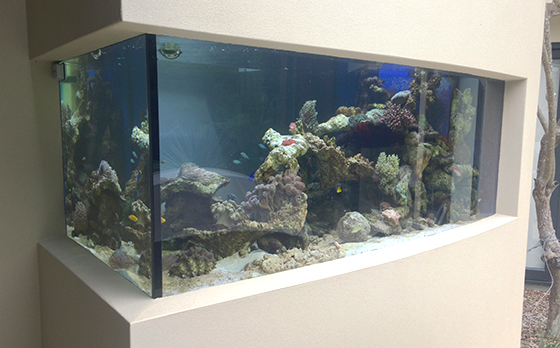 In-Wall Fish Tanks
Fantasea Aquariums is a family-owned and run business that has been operating on the Central Coast, NSW for 13 years.
We specialise in custom made aquariums, building commercial-use aquarium systems, and creating supplying top-quality wall aquariums at competitive prices. Read More
If you would like a quote, or want to discuss your needs and vision…
High-Quality Wall Aquariums
Add that wow factor to a room in your house or business with one of Fantasea Aquarium's tanks. We can take you through the whole process, from creating a concept to designing and building so you end up with a fish tank that reflects you and fits the ambience of the room.
If you have been looking for something a little bit different that can transform a room, a wall-mounted fish tank could be what you have searching for.
Why Choose an Aquarium?
We have discovered 5 main benefits to adding a fish tank feature to your home or business, whether that be a wall-mounted aquarium or a floor fish tank:
Wow factor – fish tanks make for an interesting feature that is never static, and an aquarium in your wall only further adds to the uniqueness.
Relaxation – tanks add a great ambience to whichever room you choose to locate them and help add a feeling of calmness for anyone who looks at it.
Creating ambience – depending on the kind of ambience you want to add to your room, your fish tank can serve a variety of purposes. It can be relaxing, as mentioned above, but it can also simply be a great creative addition to any room.
Sensory stimulation – we find our tanks are great for any room, including waiting rooms where adding a feature that provides sensory stimulation can prove to be an invaluable addition. They can be distracting, great for nerves, and keep people preoccupied with the ever-changing contents. They are especially great for kids and patients or customers who need to be kept entertained.
Learning opportunities – regardless of age, you are guaranteed to learn something from observing fish tanks. It will never look exactly the same from one day to the next and the fish can offer great opportunities to learn more about aquatic creatures.
Whatever needs or requirements you are hoping to fill with one of our tanks, there are only benefits. Whether you want an addition to a room in your home or you are looking to add a feature to a waiting room to keep your clients entertained or the stress levels of your staff down, our aquariums can tick all these boxes.
Why Should I Pick Fantasea Aquariums for My Built-in Wall Aquarium?
To the founder of Fantasea Aquariums, water has been a major part of life, from childhood holidays visiting waterfalls and streams to recently scuba diving on the Great Barrier Reef. They wanted to bring this beauty into people's daily lives by creating unique water features.
To get started on your unique in-wall aquarium build, we will first discuss your budget and the type of feature you are looking for. We can also discuss which room you are looking to place your tank in (a foyer, for example) to really create what you have in mind. All our livestock is sourced from environmentally safe suppliers and live long happy lives. Our tanks also do not require intense maintenance every day, if you do not want to spend a lot of time on your tank, we can handle most of the maintenance work. All you need is to set aside 5 minutes every few days.
Get in Touch to Create Your Wall Aquarium Fish Tank Today
If you are interested in transforming a room and adding a high-end feature that has been created with you in mind, get in touch today to speak to one of our passionate members of staff. Read Less