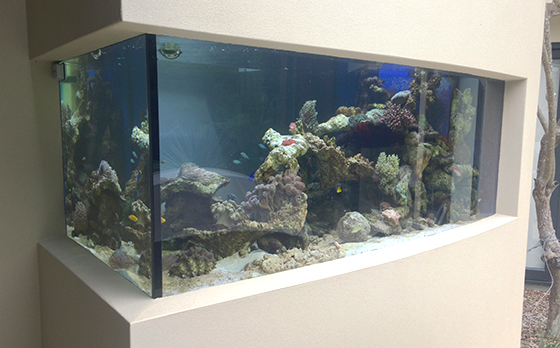 Aquarium Products
Fantasea Aquariums is a family-owned and run business that has been operating on the Central Coast, NSW for 13 years.
We stock a number of accessories to help customise and meet your specific requirements for your set up.
If you would like a quote, or want to discuss your needs and vision.
Commercial Aquariums for Sale!
Do you own a business? Add a little spice to your waiting area or office with a splash of creativity! Fantasea is well-versed with installing commercial aquarium systems – just check out our clients' rave reviews on this site. We have the experience and resources to bring your dream aquarium environment to life – yes, even at work!
Why your Business Needs our Commercial Aquariums
Whatever your business, we can name reasons why it can significantly benefit from an aquarium. Here are some:
Boost employee morale. Aquariums have been proven to help us de-stress, perfect for those long office days. An underwater world in the office could be something to look forward to at work, helping you build a more productive and content workforce. Your employees (and business performance records) will thank you for it!
Aquariums can make waiting periods significantly less painful. In fact, waiting could even be an enjoyable experience for your customers or clients, with a little underwater entertainment. Children love fish, as do animals. Whether you work at a dental or a veterinary clinic, a water display or aquarium can work wonders to put your patients at ease.
Do you run a movie theatre or restaurant? Mesmerising aquariums not only attract customers but provide amazing photo opportunities! Touch ponds can add even more fun for the whole family and shorten waiting times. Who knows? A beautiful tank with vibrant fish and corals could turn your restaurant or cinema entrance into an appealing, Instagram-able spot. Your customers may even forget that their movie has started.
Perhaps you run a spa? Your clients will love the light, relaxing sounds of flowing water. Situate a spellbinding water feature in your massage rooms to keep them entertained and at ease. You may even want to venture into a fish pedicure service! We can help you design a beautiful, soothing display that will be the talk of the town.
Run a therapy centre? It can be difficult to get patients in the right state of mind to open up to you. Make the experience easier for both you and your client. A soothing aquarium can help to relax the mind and help the conversation flow. The same applies to physiotherapy – a serene water display can help muscles relax, making for easier work and lessening pain.
Need to spice up a boring boardroom? Meetings can run over time, and discussions can get tense as irritability spikes. An aquarium can help to calm the mind and facilitate productive, constructive conversations. Discuss more in a shorter time and make it home for dinner!
Sea-s the day!
Bring a healthy dose of Vitamin Sea to your business with Fantasea Aquariums. We can also take care of aquarium or pond maintenance, so you needn't worry about more than your daily work! Just book regular (or one-off) appointments with our team on this site.
In this sink-or-swim commercial world, rise above the competition with an underwater edge. Contact us today for a quotation or visit our store in Sydney to transform your business for years to come. Read Less