Custom Aquariums Built in Sydney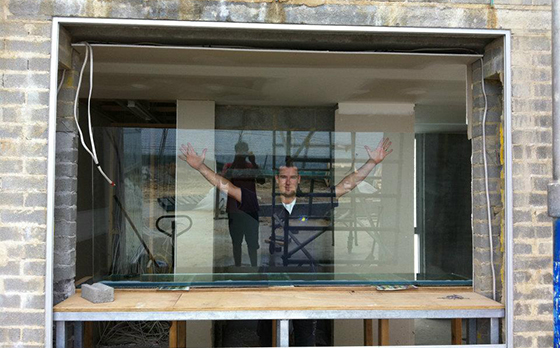 Sydney's Leading Custom Aquarium Builders
Fantasea Aquariums has been building aquariums for 15 years on the Central Coast of NSW and surrounding areas. We have a qualified glazier along with experienced tank builders who regularly work along side architects, engineers and project managers to make sure that your aquarium fits perfectly into your home.
If you're after something less customised we also build standard size aquariums.
For those wanting to make small changes to an existing or new aquarium we can drill holes, install weirs and cut new lids, this service can be carried out on site or in store. Read More
Custom Tank Enquiry Form
Make a Splash with your Custom Aquarium!
At Fantasea, we love aquariums. We think they add a splash of the ocean, complete with its colourful sea creatures, all in the comfort of your home. Our aquarium builders in Sydney have many years of experience building aquariums of all sizes and designs. Increase the value of your living space with one of our custom-made glass aquariums!
From cylindrical tanks with a relaxing blue glow to a walkway of mesmerising waterfalls, let your imagination run wild. We want to create an aquarium unique to your vision, to complement the existing setting of your home perfectly. Our aim is for it to last for years to come and bring joy to the whole family.
Why Install a Custom Aquarium?
Sure, they're beautiful to look at, but why else should you install a custom home aquarium?
Health benefits: research suggests that the presence of an aquarium causes significant falls in blood pressure and heart rates. In other words, it helps us relax and works wonders for our quality of life. Improve your mood simply by being in your home! Having an aquarium improves both your physical and mental health-need we say more?
Educational value: do you have kids? Having a custom-made fish aquarium in your home is great fun for your children, while also carrying educational value. Seize this opportunity to teach your children about animal behaviour and biology. Early exposure to an underwater environment will be a memorable part of their childhood, without having to make the trip to the beach. Even better: why not put your kids in charge of some fishy friends? Fish are low-maintenance pets and teach children responsibility, making them more confident with more demanding pets later in their lives.
Entertainment value: aquariums form a great central accessory in your home. They are also great fun for the whole family! Instead of putting your child in front of the TV or letting them play video games, let them watch fish in your aquarium for a healthier alternative. Having guests over? An aquarium (or two!) will be sure to attract their attention.
Get better sleep: remember how we said aquariums help us relax? Unsurprisingly, this has been shown to extend to sleep, too! We know what it's like to be a bit of an insomniac, but the calming effects of an underwater environment in your room can help.
Fengshui: bring prosperity and good energy into your home! Fengshui is an ancient Chinese practice. It concerns "good" and "bad" energy between people and their environment. Aquariums represent wealth and health, particularly with brightly coloured fish. They can also encompass all five Fengshui elements: "fire" (bright fish), wood, metal, water, and earth. Perhaps your new aquarium could bring the perfect balance of energy into your home.
Landlord-friendly: unlike a dog or cat, your landlord is more likely to allow fish as pets in your rented home. Give them a dazzling home in the form of a portable aquarium.
Why Fantasea's Aquariums?
You may think installing a custom aquarium is a nice fantasea, but an impractical idea. We're here to say: it doesn't have to be! With our range of aquarium maintenance and water delivery services, Fantasea goes beyond tank installation and selling accessories for your watery inhabitants. Let us take care of it, from start to end! No pesky trips to pet shops or pump-fixing frustration required.
Meet with our professionals today, so we can help your underwater vision come to life. Simply fill in a form on this site, give us a call or pay us a visit!
Buy Unique Custom Fish Tanks
Fish tanks are a great way to liven up any room in your house or business. At Fantasea Aquariums, we can create, design and build your perfect custom-made fish tank. We have fitted our fish tanks for a range of different businesses and find that our aquariums bring a great relaxing atmosphere for staff members and clients alike. We create high-end fish tanks that provide that extra edge that creates that wow factor when people walk into the room.
Water features are a great way to add a moving piece of 'art'. They will never look the same from one moment to the next. Unlike classic pieces of artwork, fish tanks are ever-changing and provide a great distraction and piece of entertainment for everyone, regardless of age. If you're looking for a custom-built fish tank in Sydney, we can make your fantasea real!
What Sets Fantasea Custom Aquariums Apart From The Rest?
Wondering where our fish come from? We only source our fish from environmentally safe suppliers, so you know that the contents of your fish tank have not caused damage to the environment. Many of our fish species can also live for decades – we always provide happy and healthy fish.
Another big question people often have is what the maintenance process looks like. Don't let the word 'maintenance' put you off, aquarium technology has come far in recent years, meaning that if you don't have lots of time to dedicate to caring for your custom-built fish tank, you don't need to! 5 minutes every few days is usually enough. We also offer ongoing maintenance for all our features, so if you ever run into issues, we are only a phone call away.
Our Guarantees to You
Our main guarantee is that our custom aquariums will create a relaxing space for you and those around you. Fish tanks create a great source of entertainment that all can enjoy at the same time, while simultaneously creating a soothing ambience. We have found that there are particular benefits in waiting rooms, and provide a welcome distraction for children, dementia patients and patients with mental illness by providing sensory stimulation without ever being overwhelming. Equally, fish tanks are also a great stress reliever for members of staff by creating a little pocket of relaxation in whatever room your tank is in.
On top of everything we have already mentioned, we will replace fish and/or plants if necessary, throughout the maintenance cycle, so you don't have to worry about any of that. A glass fish tank does not have to equal hard work!
What're The Next Steps?
Still not convinced what we can do for you? Are you wondering if your ideal custom tank is even possible to create and build?
If you want reliable and passionate fish tank builders in Sydney, get in touch today or come visit us in-store. We would love to answer any other queries or questions for you, so we can get started on creating your perfect tank and livening up your space. We look forward to hearing from you and starting this process with you. Read Less