Indoor & Outdoor 
Commercial
Water Features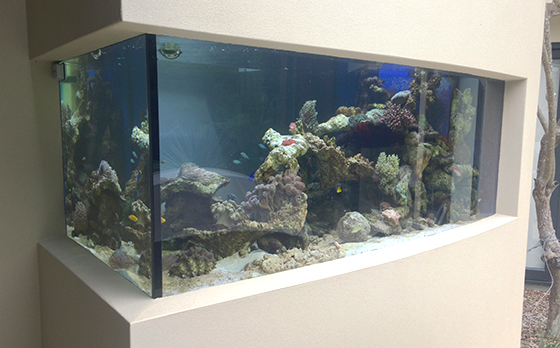 Commercial Indoor & Outdoor Water Features
Fantasea Aquariums is a family-owned and run business that has been operating on the Central Coast, NSW for 13 years.
We specialise in custom made aquariums, building commercial-use aquarium systems, and creating spectacular indoor & outdoor commercial water features. Read More
If you would like a quote, or want to discuss your needs and vision…
Looking for High-Quality Commercial Water Features?
Here at Fantasea Aquariums, we offer unique water feature designs to liven up your space and create that wow factor that you're looking for. We offer a range of services, from creating concepts and designs to building and helping you maintain your water features. All these services are available for your aquariums, palladiums, terrariums, vivariums, ponds and more!
If you're looking to create and curate a sense of relaxation, ambience and sensory stimulation you've come to the right place. A water feature can transform all kinds of spaces, including – but not limited to – your home, office space, waiting area and outdoor space. An aquarium will never look the same from one minute to the next, its contents are never static, and that's what makes them so great.
Why Choose Fantasea Aquariums for Your Commercial Indoor Water Features?
We pride ourselves on creating a guarantee for our customers that we will replace fish or plants throughout the maintenance cycle if required. All our livestock comes from environmentally sourced suppliers, so you don't have to worry about the origins of your aquarium contents.
You may think that investing in a water feature means hours and hours of maintenance, but this is not the case. It all depends on how much time you want to commit, if you want less involvement, you could spend as little as 5 minutes every few days and we will handle the rest.
Why Would a Commercial Water Feature Make a Difference to My Customers?
By choosing our services, we can assure you that the waiting time for your clients – whatever they are waiting for – will seem like a pleasure. With a living installation, the waiting time will feel half as long.
We have also noticed that dementia patients can feel up to 70% calmer in areas with a water feature. In cases where we have installed in establishments that regularly deal with children, kids are 90% more likely to have a smoother drop off, meaning fewer tears! Have a holiday rental? Our water features will increase the value of your rentals. Water features are not only pretty to look at, but also have a calming and soothing presence.
Shop Our Range Today
If you have been thinking about incorporating a water feature into part of your life, whether that be for your personal enjoyment or for employees or clients, you really can't go wrong. Whether you're looking for commercial outdoor water features or indoor features, we've got you covered.
There are many benefits, including sensory entertainment, relaxation and adding that extra wow factor to your space. We have many testimonials from happy clients, so why wait? If you are interested in finding out more about our services, visit our website. We would also love to hear from you, so get in touch with us via email if you have any questions or want to inquire about any of our services or products.
We can't wait to help you get started in creating your ideal commercial water feature. Read Less